HOW TO SURVIVE A BULLET TO THE HEART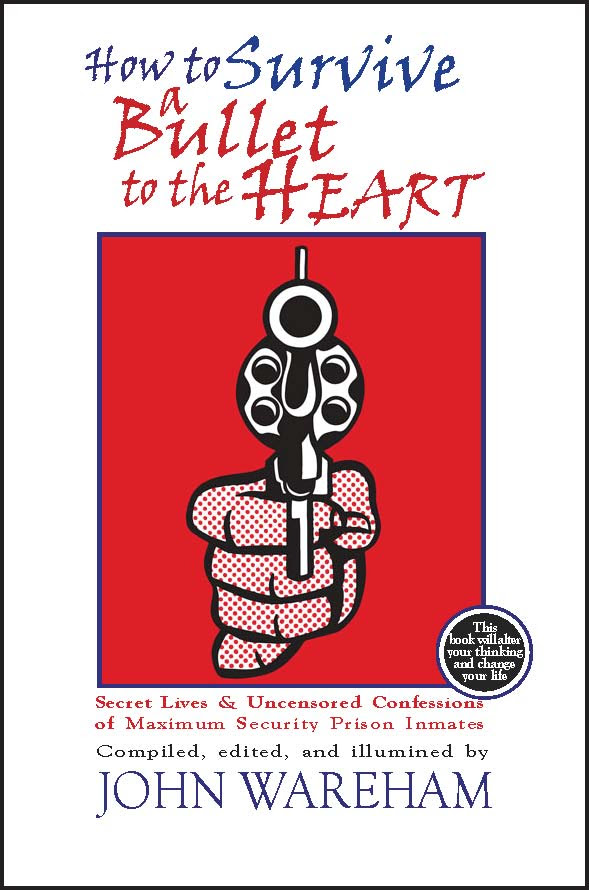 "Victims abide at both ends of a gun. Bullets fly to the heart and from the heart. Wounds that exist before the pulling of the trigger are the wellspring of crime and the font of redemption."
John Wareham,
Chairman & CEO Eagles Foundation
New lives for Old.
That's the lofty mission of the Eagles Prison Program. But is that just a pipe dream? Judge for yourself as maximum security prison inmates share their journeys from innocence to criminality, arrest to bewilderment, conviction to incarceration, despair to hope, defeat to victory, vice to virtue, and lawlessness to love.
Blood & tears, sorrows & regrets - every heart-stopping moment is captured & freely shared by healing desperados: I love this book."
Brian O'Dea-Author, HIGH: Confessions of an International
Drug Smuggler
"To pen a prison poem is to unlock the cage along with the heart. This deft collection sparks a potent reciprocity of spirit as one harkens to the sound of wings in the night."
Professor Jess Maghan-Director,
Forum for Comparative Correction
"A life-changing anthology -passionate and honest, ennobling and enriching."
Charles DeFanti-Professor Emeritus of English,
Kean University
BUY NOW AT AMAZON.COM
THE HUFFINGTON POST
"Victims abide at both ends of a gun. Bullets fly to the heart and from the heart. Wounds that exist before the pulling of the trigger are the wellspring of crime and the font of redemption."

John Wareham,
Chairman & CEO Eagles Foundation

New lives for Old.
That's the lofty mission of the Eagles Prison Program. But is that just a pipe dream? Judge for yourself as maximum security prison inmates share their journeys from innocence to criminality, arrest to bewilderment, conviction to incarceration, despair to hope, defeat to victory, vice to virtue, and lawlessness to love.

Blood & tears, sorrows & regrets - every heart-stopping moment is captured & freely shared by healing desperados: I love this book."
Brian O'Dea-Author, HIGH: Confessions of an International
Drug Smuggler

"To pen a prison poem is to unlock the cage along with the heart. This deft collection sparks a potent reciprocity of spirit as one harkens to the sound of wings in the night."
Professor Jess Maghan-Director,
Forum for Comparative Correction

"A life-changing anthology -passionate and honest, ennobling and enriching."
Charles DeFanti-Professor Emeritus of English,
Kean University
HOW TO SURVIVE A BULLET TO THE HEART